Femisan A is a natural formula in capsules, based on a selection of medicinal herbs, designed to help regulate the menstrual cycle and hormonal balance. It positively affects fertility and overall female health from puberty to menopause. Femisan A is a completely natural product, without adverse effects. It does not contain hormones or preservatives. When applied as prescribed, it can be used indefinitely.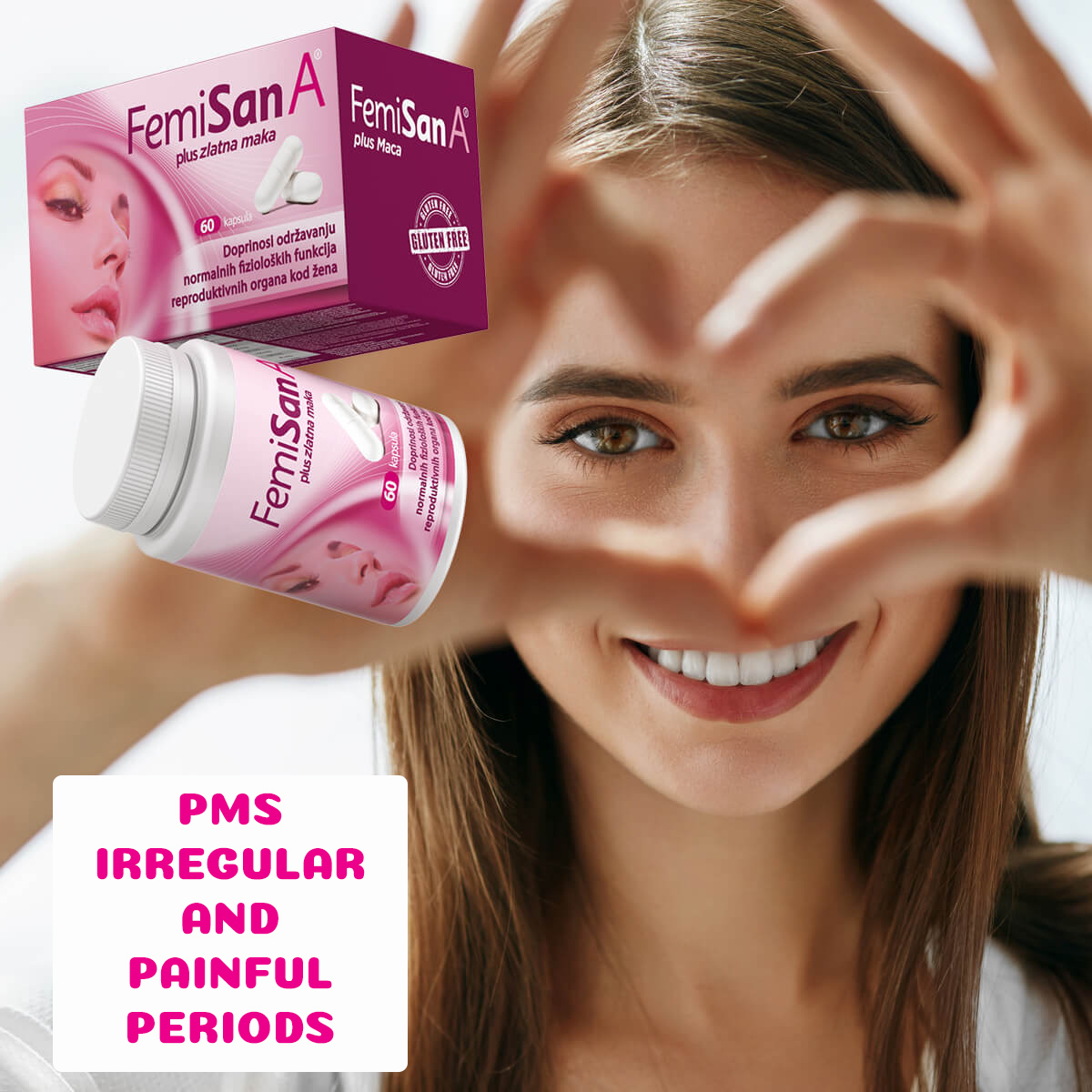 In what cases can Femisan A help?
The formulation is efficient in the following cases:
Menstrual cycle disorders
Ovarian cysts
Uterine fibroids
Painful periods
Endometriosis
PCOS – Polycystic ovary syndrome
Fibrocystic breasts
Female sterility
Ectopia of cervix of the uterus
PMS
Which medicinal herbs comprise Femisan A?
Lady's mantle, yarrow, marigold, crane's bill, shepherd's purse, golden maca root. It also contains zinc.
What is the therapeutic dose of Femisan A?
The therapeutic dose of Femisan A is two capsules twice daily, and preventative dose is one capsule twice daily.
Will I feel any changes in my body when I begin using Femisan A?
Since Femisan A enhances circulation, it can be felt at the beginning of use as mild pain in lower abdomen. That is a good sign that it is working. Furthermore, brown discharge or spotting can be a sign of a ruptured cyst. It is important to continue using the capsules regularly.
Does it contain alcohol?
No, the capsules are alcohol free. Femisan A does not contain preservatives, artificial colours or gluten. It is HALAL certified.
How long does one pack of Femisan A last?
When used therapeutically, one pack of Femisan A lasts for 15 days.
How does Femisan A affect fertility?
Femisan A stimulates ovarian functions, hormonal balance, it intensifies ovulation and fortifies the uterine lining – endometrium. It is recommended by doctors as an excellent preparation for the IVF process.
How fast can I get pregnant?
The results vary and mostly depend on the severity of the disorder that prevented fertility. Regular use over a longer period of time is essential, as it takes time for the medicinal herbs to demonstrate the full effect. Simultaneously with Femisan A for women, couples attempting pregnancy are also advised to use Alfa Aktiv for men, which balances levels of testosterone and increases sperm number and motility.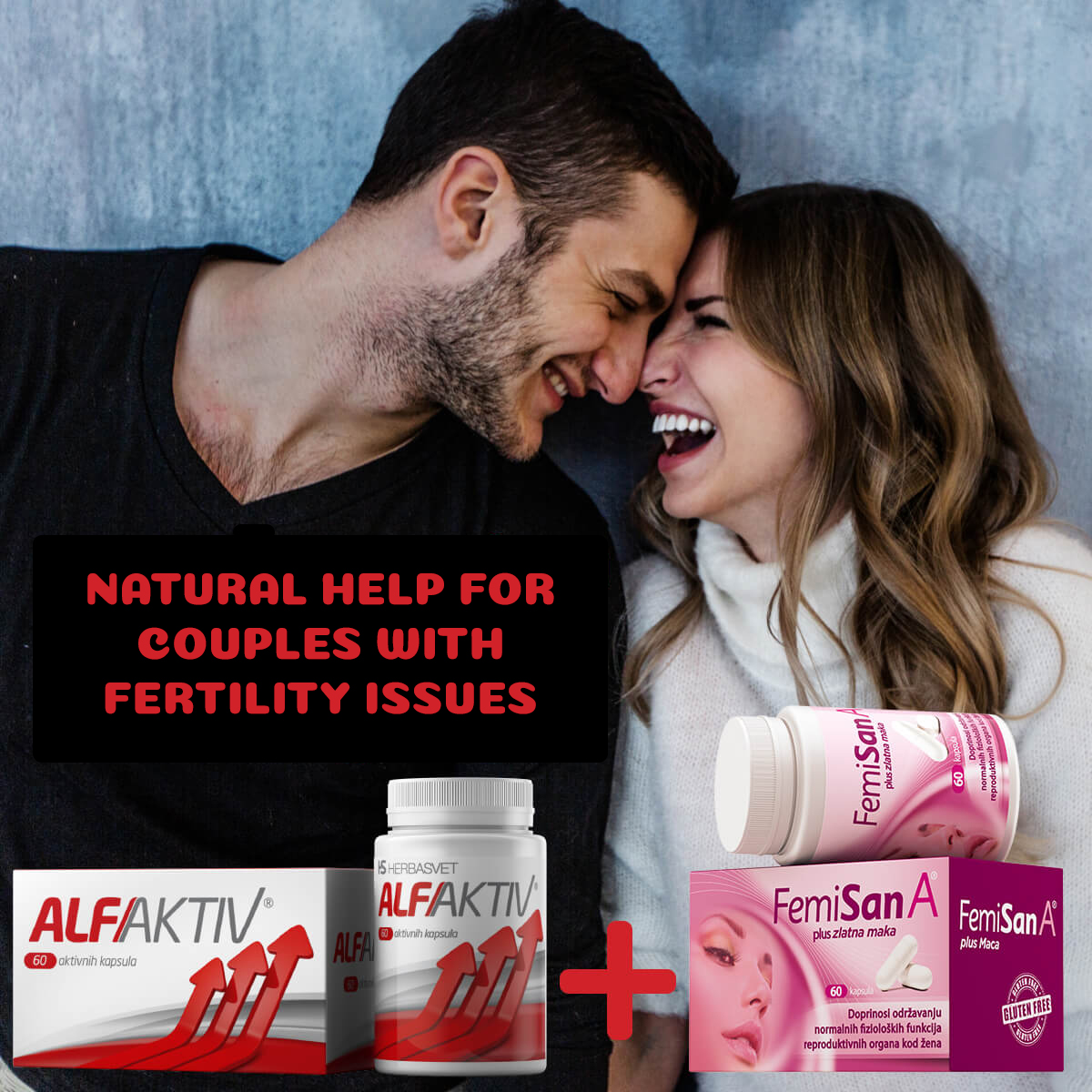 Is Femisan A used during menstruation? When it shouldn't be used?
Yes, the capsules are used throughout the cycle, even during menstruation, and should not be used in pregnancy. Femisan A will not harm the embryo, it is not used during pregnancy for a simple reason that there is no need for it. In pregnancy the body uses different mechanisms, and nothing should be used apart from that advised by the obstetrician.
How does Femisan A work in case of endometriosis?
When it comes to endometriosis, Femisan A has an anti-inflammatory effect, and it also soothes the sharp pain caused by this complicated disorder. There is also evidence that the flavones can reduce the enzyme that catalyzes the conversion of androgens to estrogens, which reduces complications of endometriosis. One of the herbs in the Femisan A formula is lady's mantle which has an adstringent effect, and is recommended in case of heavy flow. Lady's mantle inhibits angiogenesis – the growth of new blood vessels.
What effect does Femisan A have on uterine fibroids?
The afore mentioned angiogenesis is a process that enhances development of certain diseases, like fibroids and endometriosis. As in endometriosis, the lady's mantle extract has the power to inhibit growth of new blood vessels, thus preventing the development of new fibroids, stopping the growth of the existing ones and causing them to shrink over time. Furthermore, the ahileins from yarrow and tanins from lady's mantle and marigold subdue extended and abundant menstrual bleeding that is often caused by the fibroids.
How does Femisan A affect cysts and the PCOS?
Femisan A is very efficient in cysts, first of all by establishing a normal hormonal balance, and will relatively quickly cause the cysts to rupture or be reabsorbed. When it comes to the polycystic ovaries syndrome, therapy persistence very important. PCOS  is a disorder with a tendency to keep coming back, which makes prolongued therapy followed by occasional prevention essential.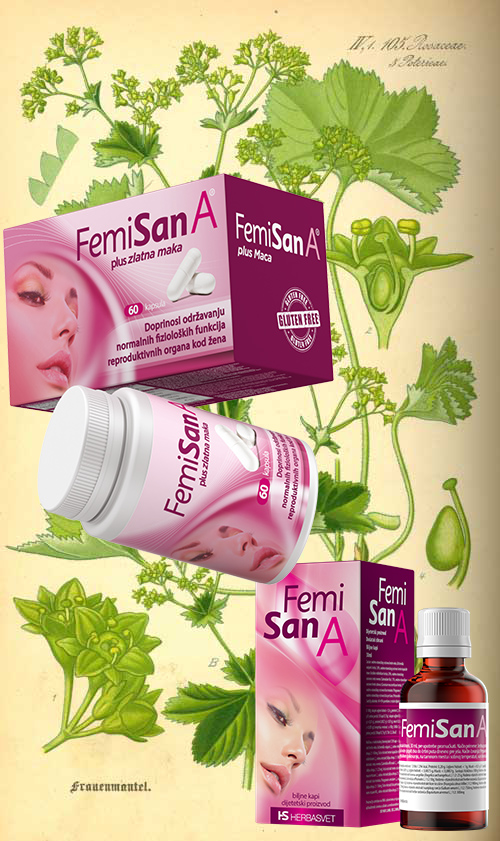 Can Femisan A help in blocked fallopian tubes?
With its anti-inflammatory effect, as well as the effect of the lady's mantle on strenghtening the reproductive organs, Femisan A can contribute to resolving the ovary blockage, but only as adjuvant therapy. A hysterosalpingogram (HSG) examination is advised which, by itself, can help unblock the tubes.
Does Femisan A contain hormones?
The plants contained in Femisan A are not dominant phytoestogens. Their main active principles – pharmacological active substances are not plant steroles but flavonoids, tannins, etc. Medicinal plants contain numerous phytochemicals. The substance that is dominant will classify a plant into a certan pharmacological group, which does not mean that the plaint does not contain other chemical compounds. It is exactly the synergistic variation of chemical compounds in plants that make their valuable healing properties.
Can Femisan A be used during and after menopause?
The oldest patient that used Femisan A was over 90 years old. The capsules can be used to treat disorders which may occur, although more rarely, following the menopause.
Can Femisan A be used simultaneously with the Pill?
Yes, Femisan A can be combined with contraception, however in a reduced dose, 2×1 capsules.
Can Femisan A be used by young girls?
Yes, the formula can be used from the first period. Femisan A helps establish a normal hormonal balance more quickly. It is also an excellent prevention from PCOS and endometriosis which keep occuring at younger age today.
Does Femisan A help with acne?
Yes, since acne are often caused by a hormonal imbalance. With regular use of Femisan A, the skin becomes clearer and sebum secretion is regulated.
Femisan A is a completely natural product that has been on the market for over 20 years now. Over the time, numerious information of its positive effects has been collected from its users. From menstrual and reproductive disorders, to fertility issues, Femisan A has been helping women regain control over their lives, and even become mothers when all the odds were against them.