The beginning of this century brought numerous innovations in skin care, so today it is increasingly difficult to imagine daily skin care without serums. Why are serums so popular and do they really work? And why not use only creams that contain high quality ingredients?
Serums are less viscous preparations that contain high concentrations of ingredients, unlike creams – that is why they penetrate the skin much faster and deeper and therefore have a better effect. A serum is applied immediately after face-cleansing and it quickly nourishes the skin thanks to its light texture. However, the best effect is achieved when a cream is applied once a serum is absorbed, a process that locks in all nutritious active ingredients deep in the skin.
Depending on the ingredients, serums are also aimed at working in a specific way: most often they have anti-aging action, hydrating action, restorative effect; there are those that combat hyperpigmentation, those that lighten the skin and prevent the harmful effects of free radicals, as well as serums with a special purpose, such as serums for acne-prone or sensitive skin.
WHAT CAUSES SKIN AGEING?
Ageing and photoaging are the biggest culprits for sagging and scaly skin dotted with blemishes. While ageing is something that cannot be avoided, uncontrolled exposure to sun rays accelerates the degradation of skin elasticity, contributes to the formation of wrinkles and spots even on young skin. Photoaging is a complex process that involves two types of sun rays – UVA and UVB. UVB rays have the most harmful effect on our skin at noon, when the sun is at its zenith, while UVA radiation is harmful throughout the day.
As we age our skin cells lose ability to repair DNA damage, while the production of free radicals naturally increases, cell proliferation decreases and the epidermis becomes thinner and less nourished. In women, this process is particularly accelerated with the onset of perimenopause, in the mid-forties. The end of the reproductive part of a woman's life is characterised by a drop in sex hormones, which play a major role in many bodily functions. Oestrogen, among other things, directly affects the activation of fibroblasts and keratinocytes that produce collagen, elastin and hyaluronic acid. Therefore, a drop in the level of this hormone automatically causes a loss of collagen, which is reflected in skin dryness, loss of shine, sagging and the appearance of wrinkles and blemishes. In the first five years of menopause, the skin loses as much as 30 per cent of collagen, which then continues to decline by about two per cent each year.
When the normal ageing process is coupled with photoaging and other negative influences from the environment, such as pollution and tobacco smoke, the skin does not stand much of a chance – until serums enter the scene.
SERUMS ARE INFUSIONS FOR THE SKIN
What both cosmetology and dermatology agree on is that serums are an effective tool to treat photo-damaged skin, to improve its texture and to smooth out fine and deep wrinkles. Although serums produce an immediately visible effect to some extent, the best results are achieved after two to four weeks of continuous use.
How do we know which serums are good? A good serum contains a combination of natural ingredients, which simultaneously targets several problems without causing side effects. One of the most important ingredients of any serum is hyaluronic acid. Of the total hyaluronic acid found in our body, as much as 50 per cent is present in the skin. Although it impacts the good look of our skin, its role is primarily to aid skin recovery: it repairs injuries by creating a protective layer within which immune cells can do their work. Hyaluronic acid has the power to retain moisture, so it is of essential importance for skin hydration, thanks to which the skin becomes smooth, supple and tight, with visibly reduced wrinkles.
Vitamins are also very important for skin nutrition. Retinol, vitamin A in a serum, penetrates deep into the skin, all the way to keratinocytes, cells of the epidermis, where it stimulates their work, as well as the activity of Langerhans cells, fibroblasts and melanocytes; it also protects against infections and the appearance of acne. Vitamin E, tocopherol, is a powerful antioxidant and protects against the harmful effects of UV radiation, especially in combination with ferulic acid. Niacinamide, or vitamin B3, stimulates skin regeneration, makes it stronger, prevents dehydration and has an antibacterial effect. This vitamin is especially useful for the skin prone to pigmentation and it contributes to an even and fair complexion.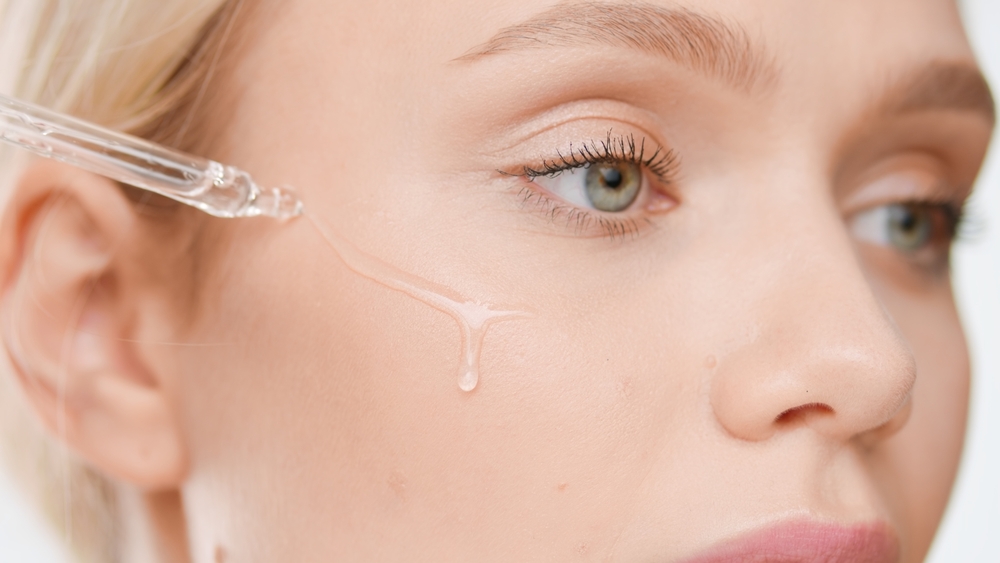 Today, the subject of increasing research efforts are peptides whose effect is often compared to that of botox. These short polymers of amino acids are a very important part of cells and are especially important for the skin.
Peptides play an important role in the functioning of the extracellular matrix, a complex network of proteins and other molecules that support cellular structures. Some of the proteins that make up the extracellular matrix are collagen and elastin: the peptides that we apply through a serum directly affect the building of these two proteins, thereby improving both the elasticity, firmness and plumpness of the skin. In addition, some peptides such as Argireline and Syn-Ake even act as neurotransmitter inhibitors (like botox, but without injections), which effectively eliminate mimic wrinkles.
Ferulic acid exhibits powerful antioxidant properties and the ability to prevent lipid peroxidation – the deterioration of lipids in cell membranes. In addition to having an anti-aging effect, it also acts as an anti-inflammatory, antibacterial, antiviral and anti-cancer agent. This precious phytonutrient has a healing effect, it promotes epithelialisation and skin renewal, prevents redness, and thus effectively removes signs of ageing. Ferulic acid has been proven to inhibit the harmful effects of UVB rays, therefore it is a powerful ingredient in anti-aging serums.
Another valuable ingredient of a serum is beta glucan, which has exceptional healing properties. Beta glucan stimulates the production of collagen and elastin, contributes to the retention of moisture in the skin and creates a fine barrier on the surface of the skin which protects it from harmful external influences. In addition to being useful in anti-aging cosmetics, it also plays a therapeutic role because it has a beneficial effect on skin prone to dermatitis, eczema, psoriasis and it promotes the healing of burns.
Coenzyme Q10 is another powerful antioxidant that successfully repairs the harmful effects of sun rays and promotes skin regeneration. It has been proven to stimulate the synthesis of hyaluronic acid, it supports DNA, has the effect of softening fine and deep wrinkles and therefore is especially valuable for mature skin, to which it restores radiance and elasticity.
Squalane is a lipid that promotes skin hydration and improves its structure. Although it is naturally present in the body because we take it in with food, its level decreases as we age, which is directly reflected in the skin, which becomes dry and wrinkled. As an ingredient in a serum, squalane creates a barrier on the skin that prevents drying, protects it from external influences and has a strong antioxidant and anti-cancer effect. As it balances sebum secretion, it is particularly suitable for acne-prone skin, as well as dry skin and problematic skin prone to dermatitis and psoriasis.
Modern cosmetology and dermatology have made incredible discoveries that can effectively, easily and quickly rejuvenate the skin. It is only up to us to choose the right, high-quality serum and to combine it well with a cream. Herba Svet's Devi collection is rich in serums that contain top quality ingredients, including hyaluronic acid CUBE 3™, which provides a quick lifting effect. Botomix serum, for example, is rich in peptides that give an immediate lifting effect, and in combination with botanical extracts soothe the skin, firm it up and improve its elasticity – therefore it is ideal for the skin after the age of forty. Collagen serum is intended for mature skin, after the age of fifty; it is rich in peptides, stem cells and beta glucan. Anti Age serum is specially designed for the skin over the age of thirty: it contains a mixture of vitamins, coenzyme Q10 and peptides, while the Hyaluronic Acid serum is designed for young skin, which it hydrates, softens and keeps fresh looking.
Sensitive Rescue serum is specially designed for extremely sensitive skin prone to rosacea. Another exceptional serum is Anti-Ox with ferulic acid, squalane, extracts of ginkgo biloba and grape seeds: it neutralises free radicals, increases skin resistance, eliminates harmful effects of external influences and thus takes care not only of our skin's beauty, but also of its health. Alongside each serum, the Devi collection also contains an adequate cream that allows it to continue to work deep in the dermis and to create a natural barrier on the surface of the skin.
Serums are an infusion which our skin needs, easily provided by the Devi collection.