Devi Bust and Décolletage Gel

Devi gel
for bust and décolletage
A natural herbal formula, rich in ingredients to increase breast volume and tone. It contains fenugreek, which has a centuries-old reputation among people as a means of breast augmentation. The main ingredient in fenugreek is phytoestrogen (plant estrogen). Estrogen has multiple effects in the body – among other things, it acts on breast augmentation. Hop extract enhances this effect and, together with fenugreek, provides better blood circulation, i.e. dilates the mammary glands, thus making the breasts larger and firmer. The high concentration of vitamins A and E in avocado and Chilean rose oils provides additional energy to skin tissues, fights free radicals and slows down aging. Avocado oil has excellent regeneration and rejuvenation abilities owing to the presence of high concentrations of essential fatty acids, which prevent drying and maintain skin elasticity. Wild rose oil stimulates the synthesis of collagen, which is a good prevention of wrinkles on the sensitive part of the décolleté, as well as the formation of stretch marks on the breasts. With regular use of Devi Breast Gel, after only two months, the breasts become bigger and firmer, while the presence of precious oils reacts and makes the skin velvety.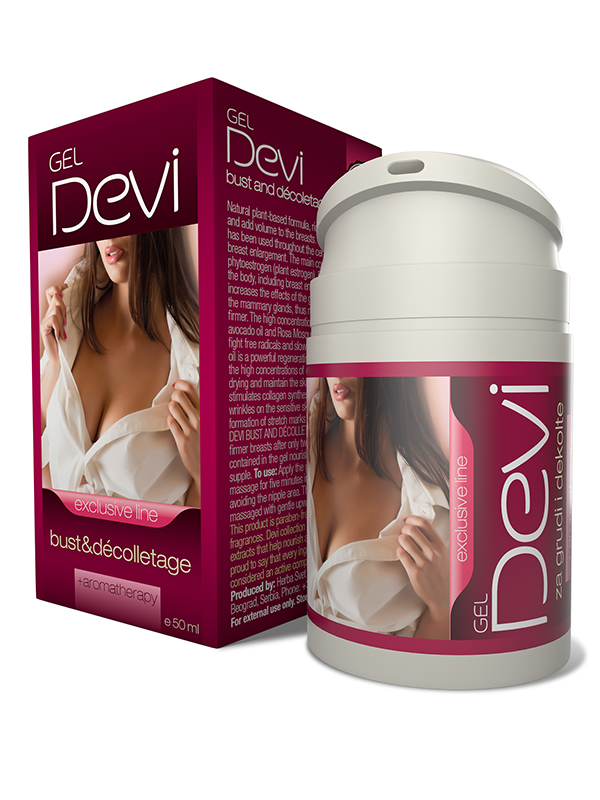 METHOD OF APPLICATION:
Apply to the skin of the décolleté and breasts two to four times a day.
NET QUANTITY: 50ml